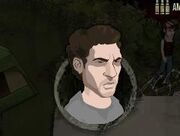 Pre-Apocalypse
Edit
Shane and Rick were best friends throughout their childhood. Shane was an avid football enthusiast, playing on his school's team as number 22 (which he's reminded of by the necklace he wears). He was a known prankster, once stealing the principal's car. He had many casual relationships with girls - even once apparently having sex with the high school women's athletics teacher. Shane eventually went into police administration along with Rick, and the two soon worked as local deputies for the King County Sheriff's Department. He became close to Rick's family during this time. Throughout his adult life, Shane never married, and had instead stayed a womanizer.
Post-Apocalypse
Edit
Social Game
Edit
Shane takes Lori and Carl to Atlanta but comes upon a roadblock. The three then settle down in a camp outside Atlanta with other survivors. He takes it upon himself to get gas and other supplies and be security for the group. He is also considered leader among the group but Greg and Joe question his leadership.
Mission 1: Battle Tutorial.
Mission 7: Building a lookout Post.
Mission 9: Powering the Camp.
Mission 20: Ammo for Camp Guards.
Mission 21: No News is not Good News.
Mission 22: Track Down the Thief.
Mission 26: Getting Some News.
As Playable Character
Edit
In a few missions, the player will have to bring Shane. Shane seems to have:
Killed Victims
Edit
This list shows the victims Shane has killed:
Possibly numerous counts of zombies.